App
Download the app
Available for Android & Apple
---
Why the indini app?
Easy shopping with your smartphone, android tablet, ipad or iphone? Shop your favorite indini fashion accessories and jewelry in a comprehensive app for Android or Apple. The app is always up-to-date, lightning fast and comes with an easy layout, just like you're used to on our website.
International support
The app is available for download worldwide. Shop your favorite accessories from anywhere in the world!
Secure payment
The same payment options you're used to on our website. Pay safe, secure and easy within the app environment.
Easy shopping
The indini app reflects the collection on the website. The offer in the app does not differ from the products available on our website.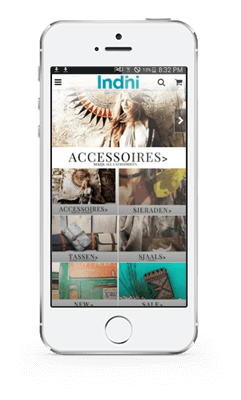 Favorite products
Save your favorite products in your wish list. Does an article sell quickly? Order again quickly!
Fast shopping
The Indini app is quick. You can easily scroll through the assortment and your shopping cart both in the app and on the website.
Showroom Scanner
Use the app in the showroom. Scan products as you go through the showroom and count directly in the app or at the checkout.
---